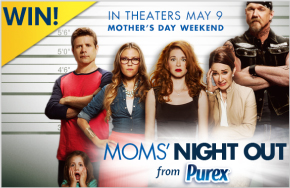 Being a mom is the hardest job on the planet, and sometimes a mom needs a break, too! Purex is celebrating Mother's Day and the release of Sony's new motion picture 'Moms' Night Out' by giving away a night out for you and five friends!
Enter here for your chance to win! Sweepstakes ends May 11, 2014.
One Grand Prize Winner
Limo service for the evening
Dinner at a nice restaurant
6 free movie tickets/passes
$100 for movie snacks
10 runners up
4 free movie tickets/passes
What would you do with five friends on your night out? I'd go to a wine bar and laugh and chat it up! It's always great having a ladies night out and sharing.
Watch an exclusive clip of Moms' Night Out! In theaters May 9, 2014