Purex Insiders has provided me with another great product to try and share – Purex No Sort for Colors detergent! I received a bottle of the Purex So Sort for Colors detergent and coupons to have a giveaway.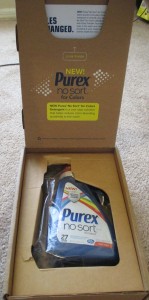 Product Information
New Purex No Sort for Colors detergent is the latest from the Purex brand to simplify your laundry routine. It features breakthrough Anti-Color-Transfer Technology that traps loose dyes in the wash and reduces color bleeding accidents in your mixed color loads leaving your clothes clean and bright. This new technology traps loose dyes in the wash and dos not let them settle onto other fabrics.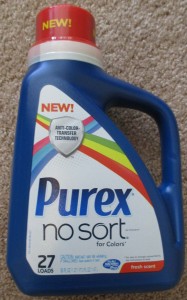 Packed with innovation, but not a miracle worker! Please follow these words of advice: wash strongly colored fabrics or new pieces of clothing, especially jeans, separately at least 5 times before doing a mixed color load with Purex No Sort for Colors detergent.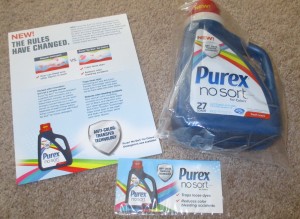 Review
It has a really great scent and I look forward to seeing this new Purex No Sort for Colors detergent in action! My boyfriend just tossed a load of reds, blacks, and other colors in…so it was the perfect time to try it out! After the wash, I wasn't sure the scent was as good going in, but it sure is a help not to have to sort colors. I washed some of my own clothes and definitely like this detergent. I will probably still keep whites separate, but I sort colors, too…so now I'll be able to just have colors and whites! It's very exciting, but I do hope they expand the scents for this new product of theirs.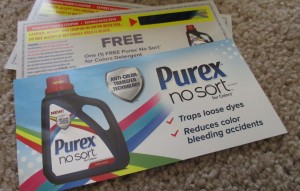 Purex Sweepstakes
To celebrate the release of the NEW Purex No Sort for Colors detergent, the Purex brand is hosting a Sweepstakes. One grand prize winner will receive $1,000, while 100 2nd place winners will receive a coupon for a free Purex No Sort for Colors detergent. ENTER HERE!
Jubar Sharing Giveaway
TWO lucky winners will each receive ONE Purex No Sort for Colors Detergent Free Product coupon (up to $6)! The Jubar Sharing giveaway ends on 4/26/14 at 12:00am. If you win, you must respond within 24 hours with your mailing address, or a new winner will be chosen.
Enter in the Rafflecopter application below.
The Purex brand provided me with a sample of Purex No Sort for Color detergent in exchange for a product review. However, all the opinions expressed here are my own.