I received an awesome new product from Purex last week! It's their new Purex PowerShot and you will be able find it in stores starting in February.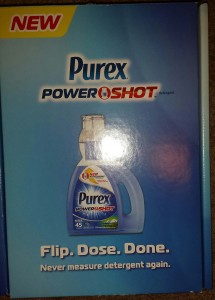 This new Purex product does the measuring for you! Purex PowerShot simplifies the laundry routine by being the only bottle that automatically dispenses the right amount of super concentrated formula with 50% more stain fighting power in every drop.* (*As compared to regular Purex liquid detergent.)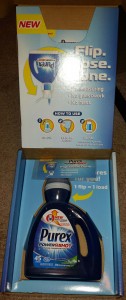 To use you'll just open the cap, flip the bottle upside down once for a regular load of laundry. You'll flip a second time for large or extra dirty loads. This built-in auto-dosing technology in the bottle does the measuring for you, so there's no waste! Purex PowerShot will perfectly clean every time!
Purex PowerShot is available in Mountain Breeze and Natural Elements Linen & Lilies.
My Review
It smells great and I was excited to try it. When I did, it already had a portion in there, so I was a bit confused, even though it does say flip upside down, and flip back. Heh. Otherwise, was great to use…and to have the portion for you and no cap mess to deal with! Yep, I showed some friends and they already loved that! They eagerly took the $1.50 off coupons that I was provided to share with friends and family.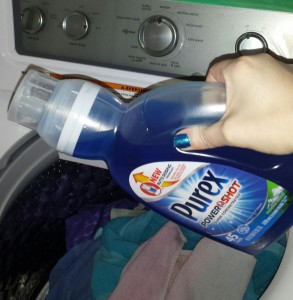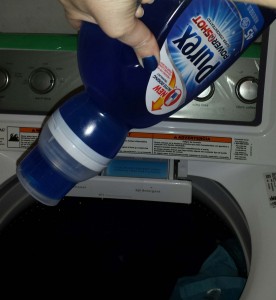 Purex Sweepstakes
To celebrate the release of the NEW Purex PowerShot detergent, the Purex brand is hosting a Sweepstakes. When you register, you will receive a dollar off coupon when the product is available at a retailer near you. Three grand prize winners will receive a Whirlpool washer and dryer, while 300 runner ups will receive a free bottle of Purex PowerShot detergent. ENTER HERE!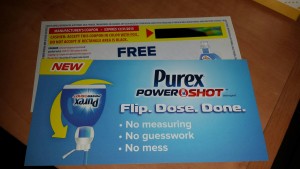 Jubar Sharing Giveaway
TWO lucky winners will each receive ONE Purex PowerShot Free Product coupon (up to $6)! The Jubar Sharing giveaway ends on 2/11/15 at 12:00am (starts 2/1/15 at12:00am). If you win, you must respond within 24 hours with your mailing address, or a new winner will be chosen.
Enter in the Rafflecopter application below.
The Purex brand provided me with a sample of Purex PowerShot in exchange for a product review. However, all the opinions expressed here are my own.