As a Purex Insider I receive the opportunity to try Purex and sister-brands and this month I received Purex Fels-Naptha laundry bar to try out.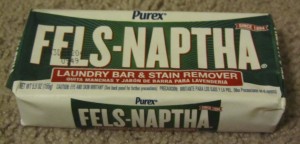 About the Product
Fels-Naptha removes stains on their first time through the wash. It can pre-treat dozens of stains and safe on colors. It's great for dirt, grease, and ring-around-the-collar. It's easy to use and more effective than spray.
Fels-Naptha is so easy to use! Simply the rub the stain with a wet bar of Purex Fels-Naptha and wait a couple of minutes. Then, wash your clothes as you normally would and say farewell to tough stains for good.
Reviews
I personally had never heard of this product other than on the Purex sites, but my grandmother and boyfriend had. My grandmother said it's a really strong bar that works GREAT and agreed that it is used to pre-treat clothing. She also said this product has been around for a long time. This got me excited to try it. My boyfriend said his Aunt used to use it all the time when he was growing up.
I will include a personal review soon with more pictures. Thank you.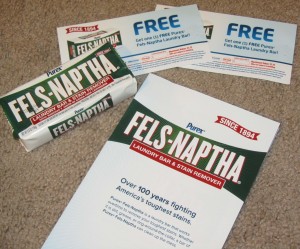 Jubar Sharing Giveaway
Two lucky winners will each receive ONE Purex Fels-Naptha Laundry Bar Free Product coupon! The Jubar Sharing giveaway ends on 12/4/13 at 12:00am. Enter in the Rafflecopter application below. Good luck!
Purex provided me with Purex Fels-Naptha product and coupons in exchange for a product review. However, all the opinions expressed here are my own.