Social Insiders has provided me with another great product to try and share – Purex plus Clorox2 Stain Fighting detergent! I received a bottle of the Purex plus Clorox2 Stain Fighting detergent and coupons to have a giveaway. I received these a while ago, but May has been one busy month for us, including celebrating my birthday…but, it's better to share now than not at all! 🙂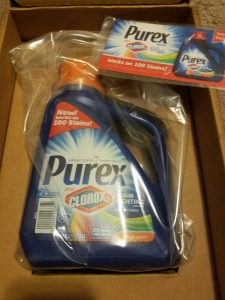 Product Information
New Purex plus Clorox2 Stain Fighting detergent is the latest from the Purex brand is formulated to remove the toughest stains. his detergent will work on 100 stains, is safe for your colors, and bleach free! It has been available since March in two fragrances: Original Fresh and Sunny Linen.
To fight those 100 different stains, Purex plus Clorox2 Stain Fighting detergent contains 3 stain-fighting enzymes. Stains it can remove are starchy ones (chocolate, tomato sauce), protein-based (grass, blood), or food stains that use guar gum (ice cream, BBQ sauce).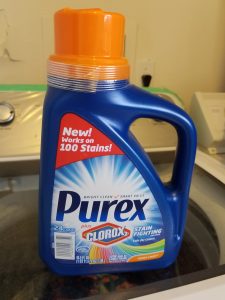 Review
With how busy my month of May has been, and already having open containers of laundry detergent, we have not yet tried this one. Really looking forward to trying out with stains and that it's not bleach. I just do not use bleach, if anything needs it, then my guy does that load of laundry. So, it'll be nice that I can take care of it with Clorox2 in this Purex detergent!
Jubar Sharing Giveaway
This is going to be a very quick giveaway! Please don't delay in entering.
TWO lucky winners will each receive ONE Purex plus Clorox2 Stain Fighting Detergent Free Product coupon (up to $6)! The Jubar Sharing giveaway ends on 5/31/16 at 12:00am. If you win, you must respond within 24 hours with your mailing address, or a new winner will be chosen.
Enter in the Rafflecopter application below.
The Purex brand provided me with a sample of Purex plus Clorox2 Stain Fighting detergent in exchange for a product review. However, all the opinions expressed here are my own.