Crowdtap and Hershey's provided me with the NEW Hershey's Chocolate Spread to try out! It arrived last week, so I've only had a short amount of time to sample and review!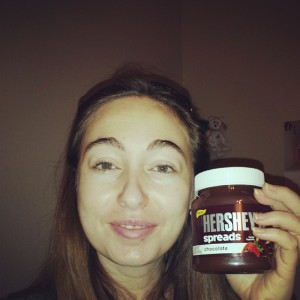 The closest thing I've tried to this chocolate spread in the past was Nutella…which is actually a nut spread…with some chocolate and yummy! So, of course I was going to compare this to that….
First day I try the spread, it's breakfast time when I think about it…so I put the spread on one half of my English Muffin and give it a taste test. I like it, it tastes like frosting. Due to that I was glad I only put it on half of the English Muffin, since I do not normally have sweets for breakfast.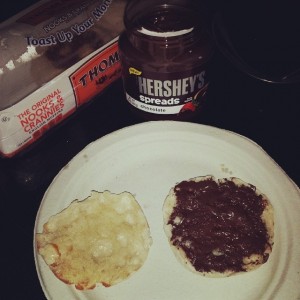 Later that night, I decided to try again…this time on raspberries. Luckily there were a few bigger ones, so I slathered on the chocolate spread and gave it a taste. I didn't like it as much. It was alright, but not as good as I hoped. Likely better on strawberries, but I didn't have any.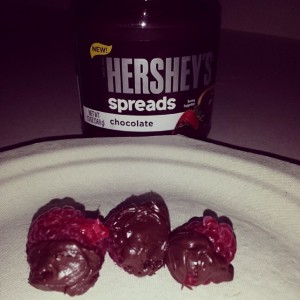 The next day, I decided to have the Hershey's chocolate spread on a slice of toast in the morning with my breakfast. Oddly enough, I liked this better than the English Muffin. It really could have been that I grabbed the toast out of the toaster faster and it was warmer. I really believe spreading over a hot slice of bread changes spreads to make them better…like peanut butter…oh my! I digress.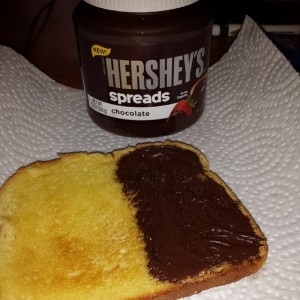 Today I needed to squeeze in a couple more samplings…but, I was not in the mood all day. Finally after dinner seemed like the perfect time. I first tried the chocolate spread on pretzels and oh my! That salty and sweet combination is delicious! Really tasty! Only 2 in the picture, but I had 2 or 3 more.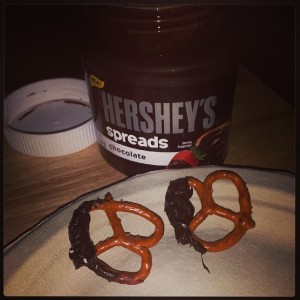 Then, I went for an apple….seriously, my favorite to put the Hershey's chocolate spread on! Yummy!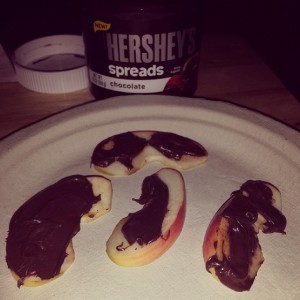 All in all, I don't think Hershey's chocolate spread is great on everything, but it is good on most things! I dare think it would be good on s'mores! Or just on marshmallows…or on bread with peanut butter. Oh the spreading possibilities keep going!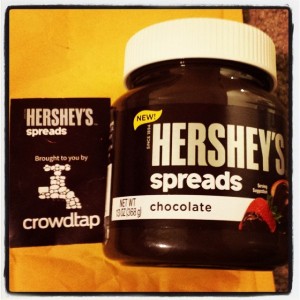 What would you try new Hershey's Chocolate Spread on? Also, there is an Almond Spread I have yet to try, would you prefer that?
Thanks so much to Hershey's and Crowdtap for sending me this sample to try! I only received the Hershey's Chocolate Spread and a sampling pamphlet, all thoughts and opinions are my own.