Back in April I had my second House Party of the year – Fancy Feast Gourmet Grilled Cheese…what were we in for? I invited cat lover friends and non-cat having friends and it ended up being 11 of us in total partying it up!
The House Party Pack included:
1 Fancy Feast Party Booklet
1 White Fancy Feast Spatula
1 Cat Shaped Cookie Cutter (did not use for the party)
1 Roll of Chalkboard Paper (fun to use, see in pics below)
1 Box White Chalk
15 Yellow Fancy Feast Plates
15 Fancy Feast Napkins
15 Fancy Feast Sandwich Flags (didn't use)
8 cans of Fancy Feast Delights with Cheddar, Grilled
15 coupons for FOUR FREE cans Fancy Feast Delights with Cheddar
5 bonus coupons, buy 1 get 1 Free can of Fancy Feast Delights with Cheddar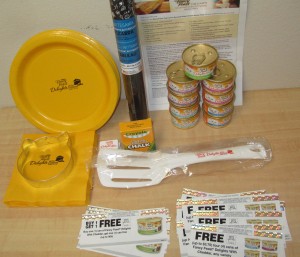 To prepare for the party, I got yellow decorations and bought various grilled cheese items to make some Gourmet sandwiches! I also bought a few things for goody envelops for the party-goers with cats.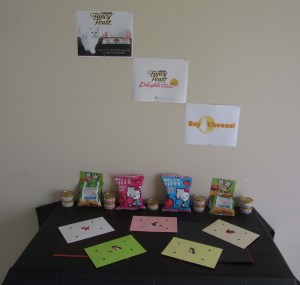 I put out so many ingredients for gourmet grilled cheeses to make at least 5 different kinds or any other combination you wanted!
Berry Jam
Brie
Apple Slices
Goat Cheese
Berry covered Goat Cheese
Avocado Slices
Pinot Grigio
Sourdough Bread
Cinnamon Raisin Bread
Pear Slices
Jarlsberg Cheese
Italian Bread
Cheddar Cheese
Tomato Slices
Bacon Bits
Havarti Slices
Pinot Noir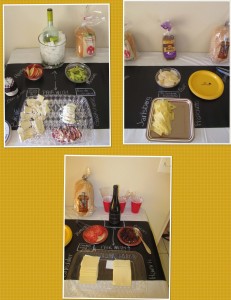 No joking, these were the best grilled cheeses I'd ever had. Who would have thought of these combinations? Well, someone must have because, I got them from their recipe booklet!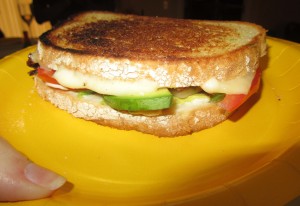 It was so much fun grilling these up…everyone trying more than one kind…taking pictures…and all around sharing! What fun and so tasty this house party was!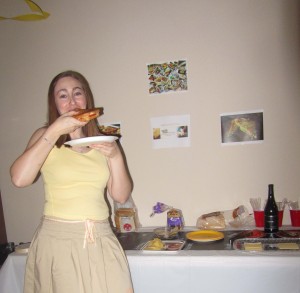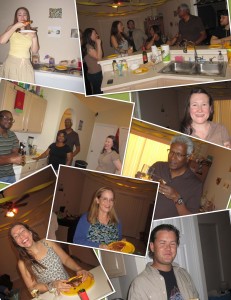 Cats were not invited to the party, but Maja got to try Fancy Feast with cheese for sure!
*The thoughts and opinions are my own. I was only provided with the products I listed from House Party on behalf of Fancy Feast.*