On Sunday Pete and I hosted the McCormick Grill Mates Party that I was privileged to host by being a Crowdtapper! Join here!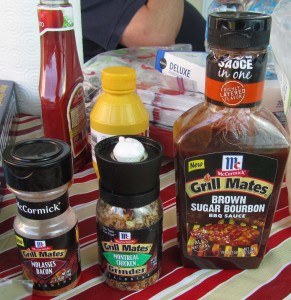 Pete set up a lovely area for us to have the cookout – tables, chairs, tarp, and the grill! I shopped for all the grilling fixings! Guests brought sides, drinks, and dessert! Pete and I prepped the meat for grilling and set it all to marinate a couple hours.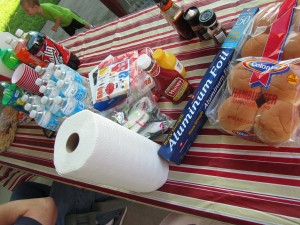 We made Spiced Brandy & Herb marinated chicken tenderloins, veggie patties with Smokewood Maple seasoning, Molasses Bacon Pineapple turkey burgers, Molasses Bacon turkey burgers, and Brown Sugar Bourbon bbq sauce marinated shrimp.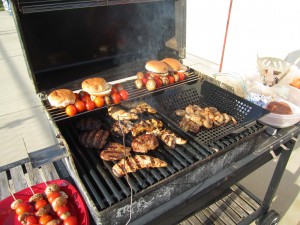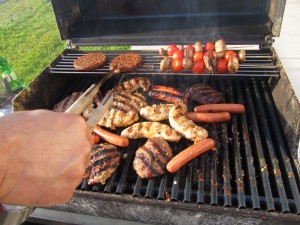 The sides included: mushrooms & grape tomatoes, macaroni & cheese, pierogies, crackers & triple berry jelly, and fruit salad.
The desserts were Lindt milk chocolates, Nestle Girl Scout cookie wafer candies, and cheesecake with triple berry jelly (who knew a store bought cheesecake could be so delicious – jelly was from MI).
I also purchased some McCormick Grill Mates rubs and marinades to give away to guests, along with the Montreal Steak seasoning that came with my party pack!
Everyone loved the McCormick seasoned grilled meats…and everyone left stuffed. My favorite was the Molasses Bacon pineapple turkey burger with the pineapple aioli (that I made). I know guests loved the shrimp as that went fast (I don't eat shrimp, so I didn't help)! And, most "houses" got to take home a McCormick Grill Mates seasoning for later use…which I think is the best way to spread the love…let them see how easy it is to marinade at home!
I took lots of pictures, mostly of food…and we all chatted about various things…and watched the 2 year old and the puppy play (not sure if I saw them play together). All in all a pretty good cookout with more than enough food for everyone! Thank you Crowdtap and McCormick!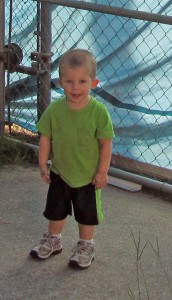 Z man at the cookout! So cute.
I received five free McCormick Grill Mates products for free to have a cookout with from Crowdtap & McCormick. All thoughts and opinions expressed are my own.